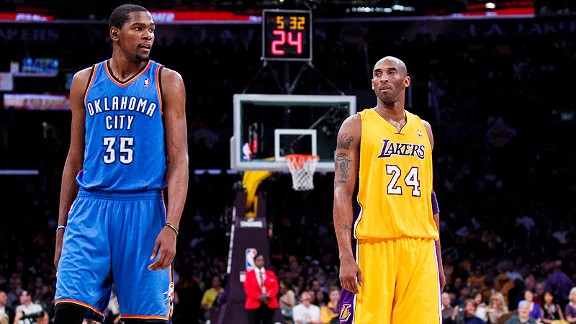 So basically the NBA GMs get an annual survey where they answer certain questions and one of them happened to be infamous "Who would you prefer taking the final shot at the end of the game?" and this time around Kevin Durant got the better share of votes:
Kevin Durant - 46.7%
Kobe Bryant - 40.0%
Carmelo Anthony - 6.7%
This is all statistical it seems, based on the fact that Kobe shot 33% from the field in the last 3 mins of game when his team is ahead or behind by 3 last year. KD shot a 43% in the same situation.
So it's hard to argue with stats, but the fact that most of Kobe's shots come harder because of the lack of another legitimate threat to make those shots so it will always be all eyes on Kobe. Unlike Durant who has Westbrook & Harden to space the floor and limit the double team.
I also feel Melo should've garnered more votes because he is as clutch as anyone, this man as put his team on his back on multiple occasions last year and beyond. Should I remind you of the Easter game last year?
But what do you guys think? Who do you want taking your last shot?
Source: (BlackSportsOnline, ProBasketballTalk)